TABERNACLE COURTYARD
---
The Bible text about the Tabernacle courtyard is Exodus 27:9-19.
The courtyard was some 100 cubits (approx 150 feet) long by 50 cubits (75 feet) wide. It was surrounded by white linen curtains hung from wooden posts. The wooden posts had heavy bronze or copper bases with silver tops. The posts had silver bands and hooks on them to hang the curtains. The height of these curtain walls was about the height of a man of that time. The posts were held in place by ropes tied to bronze pegs in the ground. The entrance to the courtyard was made of linen embroidered with scarlet, blue and purple. Most models make the curtain of one solid piece of cloth several hundred feet long. While this makes it easy to make in a model, it doesn't seem likely to us in a full sized Tabernacle. For practical purposes we envision that the between each post was a separate curtain. A single curtain extending some several hundred feet long would not have been practical. Such a curtain would have been very difficult to handle and erect without getting damaged or dirtied. When damaged it would have been hard to fix. When soiled it would have been hard to clean. Separate curtains would have met the requirements.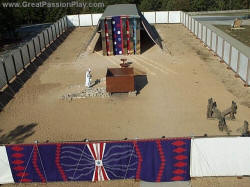 click to enlarge
Left is a picture of the item as envisioned by the folks at "The Great Passion Play" who built a full scale model of the Tabernacle. This is NOT from our 3D model. You can use this image for comparison to the 3D concept.
---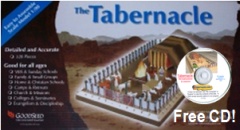 TABERNACLE KIT
This is a 21 inch by 12 inch Tabernacle Model kit ready to assemble. NOTE: This is NOT the wooden kit! Easier to assemble but not as large as the wooden model. A good tool for teaching, a great project for your Sunday School class or Family.
Click this link to see detailed photos and tips on building your own model:
Tabernacle Model Details
Add TABERNACLE KIT to Shopping Cart Check Out

---
Goods and services provided by eBibleTeacher.com, LLC (IL, United States).
Sold by 2CheckOut.com Inc. (Ohio, USA). For more info about ordering:
Order Information
---
Available from Christian Book Distributors

The Tabernacle Cutaway--Laminated Wall Chart
By Rose Publishing

This new Tabernacle Cutaway wall chart was created exclusively for Rose Publishing by renowned Bible artist Stan Stein. It provides you with an inside look at the:

High Priest and His Garments
Gate of the Court
Court Fence
Brazen Altar
Laver of Bronze
Tabernacle Tent
Holy Place
Golden Lampstand
Table of Showbread
Altar of Incense
Veil
Most Holy Place
Ark of the Covenant
Mercy Seat
Golden Censer
Cloud and the Pillar of Fire
Offerings (burnt offering, grain offering, peace offering, sin offering, and trespass offering)

Each part is identified by a number and is explained on a reproducible worksheet on the back of the chart. Descriptions of each item include scripture references. Laminated. 19.5" x 26"


Available from Christian Book Distributors

Kregel Pictorial Guide to the Tabernacle
By Tim Dowley / Kregel Publications

What was the purpose of the tabernacle? What did it look like? What is the relationship between the tabernacle and the temple? What finally happened to the Ark of the Covenant? Has the tabernacle any significance for the Christian today? All these questions--and more--are answered in this fascinating and detailed description and history of the wilderness tabernacle. Illustrated with full-colored photographs of two recent replicas of the tabernacle, this guidebook offers the reader an engaging look at this extraordinary tent and how it functioned.