Author Page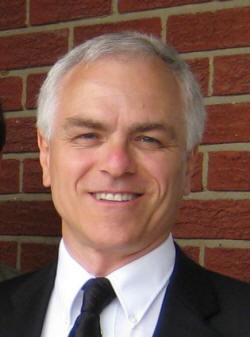 Terry Taylor
609 Country Club Ln
Carterville, IL 62918
U.S.A. Contact me.
ABOUT THE AUTHOR
TERRY TAYLOR is a Sunday School teacher and elder at the Carbondale church of Christ. Terry is is the author of several software titles including: "Bible Class Atlas" (over 200,000 copies), 'Bible Puzzles & Devos", "Kid's ABC Bible Puzzles", "The Bible & Science" and a series of Sunday School lessons including over 2100 PowerPoint slides. His current software projects include "3D Bible Tabernacle" and "The World Of The Bible". He has published church technology computer articles in "Christian Computing", "Heartlight", "Gospel Advocate", "K'News", "Technology For Worship" and "Christian Bible Teacher" magazines, quoted by "The New Yorker" and has spoken at seminars in several states. His website eBibleTeacher.com has received over 10 million visitors and 50 million pageviews.
LOOKING FOR AN UNUSUAL CLASS AT YOUR NEXT CHURCH LECTURESHIP?
Terry is available to teach a variety of classes for Sunday School Teachers and preachers. He can teach from 1 hr classes to full day programs. Contact me for more information.
---
SAMPLE SUNDAY MINI SEMINAR:
We know that most people are very busy, try our mini seminar on a Sunday and give your Sunday School Teachers and whole congregation a boost.
- Sunday School: "PowerLearning" How to unlock your teaching and learning potential.
- Sunday AM Sermon: "Jesus the Master Teacher"
- 4:00-5:45 Mini Seminar: "Telling the Old Story in the New Century" New techniques and resources for teachers.
- Sunday PM Sermon: "Sea of Knowledge, Sea of Temptation" What you need to know to protect your family from the dangers of the Internet and inappropriate technology.
---
OTHER SAMPLE 1 HOUR SESSIONS:

"Jesus the Master Teacher"
Jesus showed that the key to teaching wasn't the latest "fad" or technology. In this session Terry will give fresh insight into the timeless methods of the Master Teacher that show us how to be more effective teachers. (NOTE: "Jesus the Master Teacher" really isn't a "Tech" class, it is a general class about how to teach effectively.

"Teaching Teens in the New Century"
Terry will talk about how our teens are changing and how to more effectively reach them. He will demonstrate a variety of resources for teaching teens - especially new tools from the Internet.

"Teaching Adults in the New Century"
Terry will talk about effective teaching of adults and will demonstrate a variety of new resources for teaching adults - especially with new technology.

"Teaching With Technology"
In the last several years a lot of technology has become available to teachers to enhance their classes. In this session Terry will key on how to decide what software and equipment is right for your church and how to best get what you need (without breaking your budget!)

"What's Next in Teaching"
We have seen dramatic changes in the world in the last few years. Terry's presentation will give us his view of what to expect in the next few years and how it WILL affect your class and your church. We will learn how to prepare now for the future.

"Power Teaching With PowerPoint" (1 to 4 HOURS BASED ON NEEDS)
PowerPoint is the most popular software tool for teaching. Terry will give a mini course to show users how to use this software to make effective presentations in your church and save time.
---
FULL DOUBLE SEMINAR INFORMATION:
If your church needs a program to bring your staff into the computer age, I recommend that you divide the seminar into two sections - one for a small group of 5 to 20 computer users that make up your core church staff and one for all teachers (any number) - even those who don't use computers. Get the maximum value out of the seminar for all your ministers and teachers!
SAMPLE SEMINAR:
From 9:00 AM to 5:00 PM is a detailed program for computer users. From 6:30 PM to 8:30 PM is a program for all teachers
9:00 AM "SOFTWARE/HARDWARE FOR MINISTERS & SUNDAY SCHOOL TEACHERS"
- Introduction to Software and Hardware useful to those who teach the Bible
10:00 AM "USING THE COMPUTER TO TEACH THE BIBLE"
- Getting the most out of your equipment and software
11:00 AM "POWERPOINT I"
- How to quickly get a lesson into PowerPoint format
12:00 LUNCH
1:00 PM "POWERPOINT II"
- Custom PowerPoint Teaching in Style
2:00 PM "POWERPOINT III"
- Advanced techniques, templates design, animations, etc.
3:00 PM "GRAPHIC TECHNIQUES"
- Image editing and other concepts
4:00 PM "SPECIAL TOPICS"
- Preparing for the future of teaching.
5:00 PM SUPPER
This next series is for all your teachers - even those who don't use computers. Class size can be up to 100 people.
6:30 PM "JESUS THE MASTER TEACHER"
7:30 PM "POWER TEACHING"
8:30 END
You can break the two sessions above into different days if you wish.
COSTS: Costs for the seminar vary. To save money on travel, I would be willing to stay in a members home overnight and eat meals provided. This would mean the church would just have to pay for air flight, etc. I would fly out of St. Louis. I can take care of my own notebook computer and can even take care of presentation equipment if necessary. If you want the computer training then the church will need to provide computers and PowerPoint software for the students. I recommend at least one computer per two students.
This information given as a general guideline. Contact me for details.